UFC Fight Night – Cory Sandhagen vs Song Yadong
UFC Fight Night
Cory Sandhagen and Song Yadong fought one another in the UFC Apex Arena, Las Vegas, Nevada, on Saturday, September 17, 2022, at 4 PM ET. They are two of the most dangerous and talented fighters in the bantamweight division.
Cory Sandhagen was ranked at number 4, and Song Yadong stood at 10 before the fight. There was a lot of hype around this fight, and the fighters did not disappoint.
UFC fight fans saw two skillful fighters show their traits inside the octagon. Cory Sandhagen eventually won via technical knockout in the fourth round after the doctor called an end to the fight.
Round 1
Cory Sandhagen and Song Yadong started the first round by showing respect to one another and touching gloves. This shows the level of respect these two fighters have for one another.
Sandhagen got right into the action from the get-go and pinned Yadong on the cage, trying to take him down. However, Song was able to break away from Cory's grip and landed a few shots after that.
Sandhagen also landed multiple body shots on Yadong, which seemed to hurt the latter at one point. Knowing how Cory Sandhagen likes to mix things up, it was not a surprise to see him attempt a spinning back kick on Song Yadong, but Song was able to block it.
Cory followed with more knee attempts but was unsuccessful. He tried to take down Song again, but he was the one who ended up below Song on the canvas. Though he was down, he tried to lock Song in a triangle but could not maneuver his legs properly to get it done.
Cory Sandhagen left a bruise on Song's right temple with an elbow to the face, but Song also shattered Cory for a couple of seconds with an uppercut just before the end of the first round.
Round 2
After a very competitive first round, the fighters were called back from their corners to start the second round. Cory tried another jumping knee on Song, but he was swift enough to avoid getting caught by it. A few seconds later, Song shook Cory by landing a nice left hand on Sandhagen's right side of the face.
In retaliation, Cory Sandhagen charged with a couple of combinations on Song, but Song could dodge them. He countered these attacks with a left power shot on Sandhagen's right cheek. He followed it up with another left shot to the head, sending Sandhagen to the corner.
Sandhagen went into a defensive mode and tried to get himself back to basics. Cory took down Song right after that, but Song was able to get up in a matter of seconds. Cory looked like he was trying the upper knee a little too much, making it evident for Song Yadong to predict his moves.
Song Yadong was the one controlling the octagon in the initial stages of the second round, with Sandhagen yet to land an impressive strike on him. That shows how the hype around the young Chinese fighter is authentic. He was fighting Cory Sandhagen, one of the most flexible fighters, with a smile on his face in the second round.
Sandhagen caught Song with an upper elbow above his left eye, receiving a cut. He started to bleed, which was a bad sign in such an early stage of the fight.
Round 3
Before the 3rd round started, the doctor had to check Song's cut above his left eye to ensure the fight could continue. Song's cut on the eye could've been dangerous, but the doctor gave the fighter the green signal to continue fighting.
Sandhagen started attacking Song with many leg kicks in the third round, and he again went for the takedown. Even this time, he failed to do so, but it showed that his game plan was to wrestle Song Yadong.
He continued with a few jabs on Song's face, trying to open up that cut again so Song would start bleeding. Bleeding above the eye distorts a fighter's view, and Sandhagen wanted to use that to his advantage.
We could see that Song was up for the fight, with his smirks and tongue-showing at times. Sandhagen was drawing Song's attention and made him attack more. Sandhagen caught Song with a step-in knee but with little effect.
However, that reopened Song's cut on his eye, and the blood started pouring out. This impacted Song's vision, and that is when Sandhagen started to move forward with more elbows and knees.
Even after getting the cut, Song Yadong had better strikes than Sandhagen in all three rounds. The third round was incredibly fascinating, with 19 strikes landed against Sandhagen's 11.
Round 4
It looked like Song Yadong's brow was starting to fall off, and the doctor advised Herb Dean to keep an eye on Song's condition. The fourth round started with the same intensity, and Song lashed at Sandhagen, trying to land a knockout punch. The cut on his eye forced him to find a finish as soon as possible.
Song Yadong had a moment where he artistically took down Sandhagen by holding one of his legs and kicking the other. This young fighter had spirit, which is what MMA fans want to see in fighters.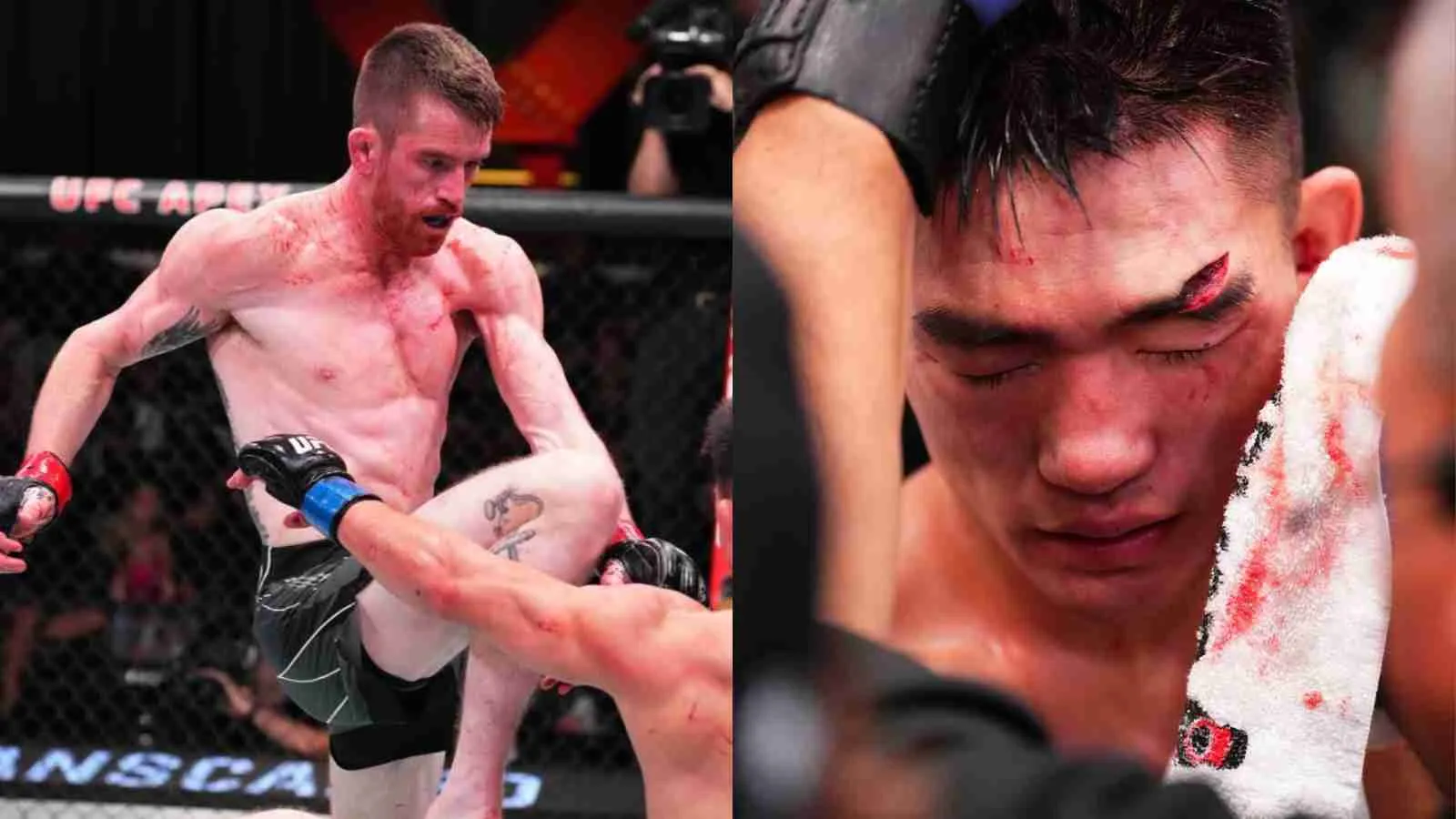 The fourth round was very bloody, and Sandhagen pinned down Song Yadong in the corner until the last second. However, after the round, the doctor examined Yadong's eye and decided to call off the fight.
Cory Sandhagen was automatically declared the main event winner due to the doctor's decision to call off the fight. Whatever the result, the two fighters gave the fans a hell of a fight on Saturday, and they should hope to see more similar fights in the future.
Watch UFC Fight Night Live
Get an IPTV subscription to watch UFC Fight nights, live and exclusive only on Roomba TV. You can also watch all kinds of sports streaming on Roomba TV.
It is the best IPTV provider in the United States, UK, Canada, etc. Watch PPV live events, such as the fight between Cory Sandhagen and Song Yadong, only on Roomba TV!